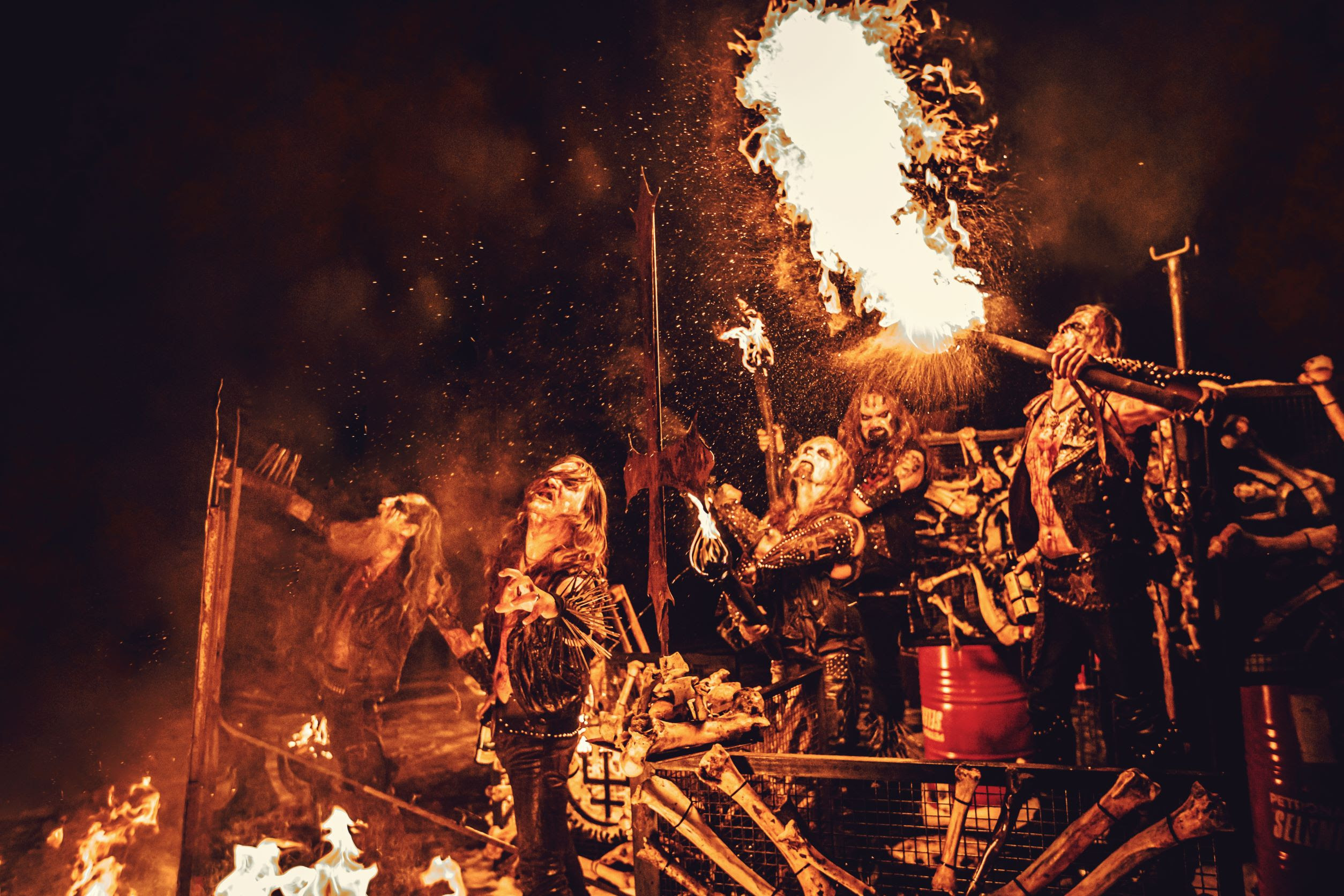 Watain is releasing a video and a 7 inch for the single "The Howling" / new album on April 29th!
Famous Swedish black metal collective Wait is proud to release "The howling" – the first single from their upcoming new studio album, "The Agony & Ecstasy Of Watain", which will be released on April 29, 2022.
"The howling» sets the tone for what will be offered on the band's 7th album, a disturbing blackened journey in 10 chapters as inexorably vicious as it is enticing.
E. Danielsson (vocals) adds:
"The Howl refers to the wordless voice of nature, moaning eerily through the ages, urging us to leave our safe spaces and explore the dark recesses of the great Abyss within and without. See it, learn from it, know it."
The single is available in both digital and physical form – a strictly limited 7″ with "The howling"on his A-side and the cover of Profanatica"I got upon its B-side is available for purchase today (no pre-order!). The Black Vinyl is exclusively available through Nuclear Blast Mailorder, while the colored Oxblood version is sold through the band's own store. Hurry because they will go fast!
TO LISTEN "The howling":
https://bfan.link/the-howling
TO BUY "The howling" SINGLE VINYL:
Nuclear explosion mail order (500, black vinyl)
Wolf Wear / Watain Band Shop (500, Oxblood Vinyl)
Pre-order / Pre-save The Album "The Agony & Ecstasy of Watain"
"The Agony and Ecstasy of Watain" Tracklist:
"Ecstasies in the Infinite Night"
"The howling"
"Serimosis"
"Black Pussy"
"Leper's Grace"
"Not Sun Nor Man Nor God"
"Before the Cataclysm"
"We stay"
"Funeral Winter"
"North"
Formats available:
– Ltd. Deluxe Gatefold LP in Slipcase (including album on CD)
Marble Gray (667, NB mail order excl.)
Marbled dark red (666, band excluded)
(scroll down for a product image)
–LP
Noir
Green with Rainbow Splatter (2000, EU retail)
Solid red (300, via PEM)
Pink (300, NB mail order)
Marble blue (300, UK)
solid green (300, Seasons of Fog)
Transp. Blue (300, Levykauppa Äx & Noise pollution)
Solid Gray (300, Sweden Rock)
Dark purple (300, napalm)
White (300, US retail)
Red with Rainbow Splatter (1800, U.S. retail and U.S. NB mail order)
Marble green (300, mail order in the United States of NB)
– CD Digipack
– Digital album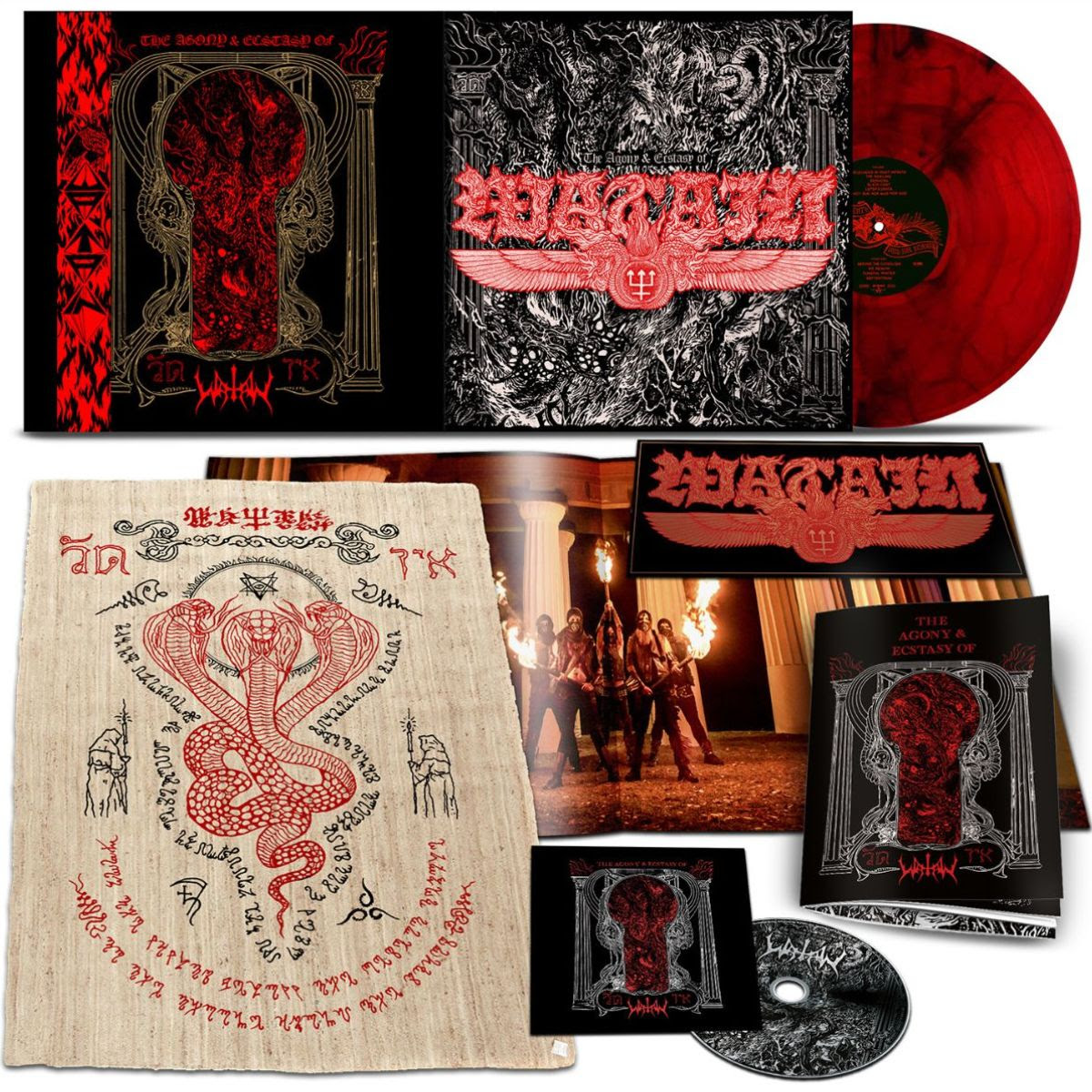 On Wait
Wait crawled out of Satan's Pussy in 1998, and have since risen to become one of the most well-known and notorious Black Metal bands in the world. Their legacy is often spoken of with fear, love, confusion or awe, but rarely with indifference.
Their famous live shows have become a global phenomenon; inimitable ceremonies of savage Black Metal fanaticism where the sacred and the solemn collide with unadulterated brute force. With their highly anticipated seventh studio album, Wait continues to awaken and electrify its audience with an unmistakable and adventurous brand of Black Metal Magic, processed and distilled over a long 25-year history.
Recorded live by long-time collaborator Tore Stjerna at his infamous Necromorbus studio, now relocated to a former church in the Swedish countryside, "The Agony & Ecstasy of Watain" takes the listener one step closer to the deepest heart of a group that although always surrounded by rumor and controversy, it has always sought the most sincere and authentic form of expression.
With 10 songs written by the founding trinity of Wait (E. Danielsson, H. Jonsson and P. Forsberg), it is also the first Wait album to be recorded live with a complete line up completed by A. Lillo, H. Eriksson and E. Forcas.
The material is further enriched by the noble contributions of Farida Lemouchi (ex Devil's bloodnow in Molasses) and Gottfrid Åhman (ex In lonelinessnow in PÅGA).
The lyrics, always a central aspect of each Wait album, range from maniacal proselytizing to deep contemplation of the relativity between life and death, sacred and profane, holy and ungodly, agony and ecstasy, greedily digging into the winding depths of the mind and spirit with a new sense of clarity and determination.
Characterized by a morbid sense of beauty mixed with raw primal strength, Wait is the wolf that continues to hunt, fearless and free, in the dark night of man.
Visit Wait at:
www.templeofwatain.com
www.facebook.com/watainofficial
www.instagram.com/watainofficialwww.wolfwear.net