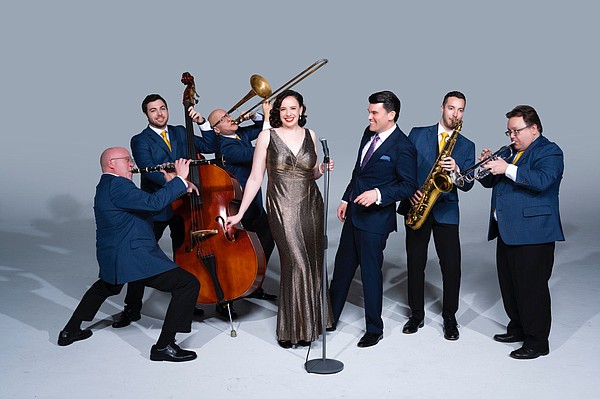 The Glenn Miller Orchestra continues the big band tradition
"A band has to have a sound of its own. It has to have a personality." –Glenn Miller
No matter your age or demographics, you've almost certainly heard the music of Glenn Miller. Read the song titles: "Chattanooga Choo Choo", https: //www.nwaonline.com/news/2021/nov/07/in-the-mood-glenn-miller-orchestra-keeps-big-band/ "When you Wish Upon a Star, "https://www.nwaonline.com/news/2021/nov/07/in-the-mood-glenn-miller-orchestra-keeps-big-band/" Pennsylvania 6-5000, " https: //www.nwaonline.com/news/2021/nov/07/in-the-mood-glenn-miller-orchestra-keeps-big-band/ "In the Mood," https: //www.nwaonline. com / news / 2021 / Nov / 07 / in-the-mood-glenn-miller-orchestra-keeps-big-band / "Don't sit under the apple tree (with anyone other than me)." Haven't you sung at least one in your head?
From the late 1930s to December 15, 1944, the Glenn Miller Orchestra broke musical records. At the New York State Fair in Syracuse, it drew the largest crowd of dancers in the city's history. The following night, he broke Guy Lombardo's all-time record at the Hershey Park Ballroom in Pennsylvania. The recording "Tuxedo Junction" sold 115,000 copies in the first week. And in 1942, RCA Victor presented Miller with the first gold record for "Chattanooga Choo-Choo," which went on to become one of the most successful songs and recordings in musical history, according to glennmiller.com. .
But at the height of his success, in 1942, Miller felt called to do his part for the United States during World War II. He was 38, too old to enlist, so he enlisted and convinced "military superiors that he could modernize the army marching band and ultimately improve men's morale," the website continued. And in 1943, he and his Glenn Miller Army Air Force Band were sent to England.
There, in less than a year, the group has engaged in more than 800 performances, the website says. Of these, 500 were programs heard by millions of people. There have been over 300 personal appearances, including concerts and dances, with over 600,000 spectators. But Miller would miss the last six months of that success. On December 15, 1944, Miller, preparing for a six-week tour of Europe, boarded a transport plane between England and France. He went down to the English Channel and we never saw him again.
His music continued in the book "Glenn Miller & His Orchestra" by George Simon, in "The Glenn Miller Story" with Jimmy Stewart and in a posthumous Grammy Lifetime Achievement Award in 2003.
Then there's the Glenn Miller Orchestra, which still tours over 200 days a year, still playing those classic swinging 1930s and 1940s tunes and stopping for just one night on November 11 at the Walton Arts Center. Erik Stabnau – whose grandparents may have danced on the original release of "Moonlight Serenade" – recently became the band's musical director, and he says he knew the music and the man, even when he was. young and wanted to follow in the footsteps of his brother's saxophonist in Rochester, NY
"I started playing sax in college and quickly turned to jazz and especially big band music," says Stabnau. "I remember always hearing about Glenn Miller and knowing the band was still on tour after all this time."
Stabnau thinks the Glenn Miller Orchestra is unique, arguably the last big band to tour as much as it does in the United States, Canada and Japan. The Fayetteville show will bring together 15 musicians from "across the country" to perform a traditional repertoire of Miller's greatest hits. Some selections hardly ever change, he says, and others revolve from a catalog of hundreds of choices. Stabnau started out with the band on the tenor saxophone, and he proudly points out that his parts would have been played by the legendary Tex Benecke during Miller's day.
"It's fun playing with the orchestra," he says, "but I find it just as fun to stand in front of him."
The performance also includes vocal music by a few soloists and the Moonlight Serenaders, "a lot of variety," Stabnau promises, and "a really unique, mostly acoustic sound that you don't hear often these days."
"It's kind of like a throwback to a different time when America was united in a common cause," he says.
But in the end, he concludes, none of this really matters.
"Anyone who considers themselves a fan of music, give it a try and you won't be disappointed. "
No more news

Faq
The Glenn Miller Orchestra
WHEN – 7:00 p.m. November 11
O – Walton Arts Center in Fayetteville
COT – Tickets start at $ 10
INFO – 443-5600, waltonartscenter.org