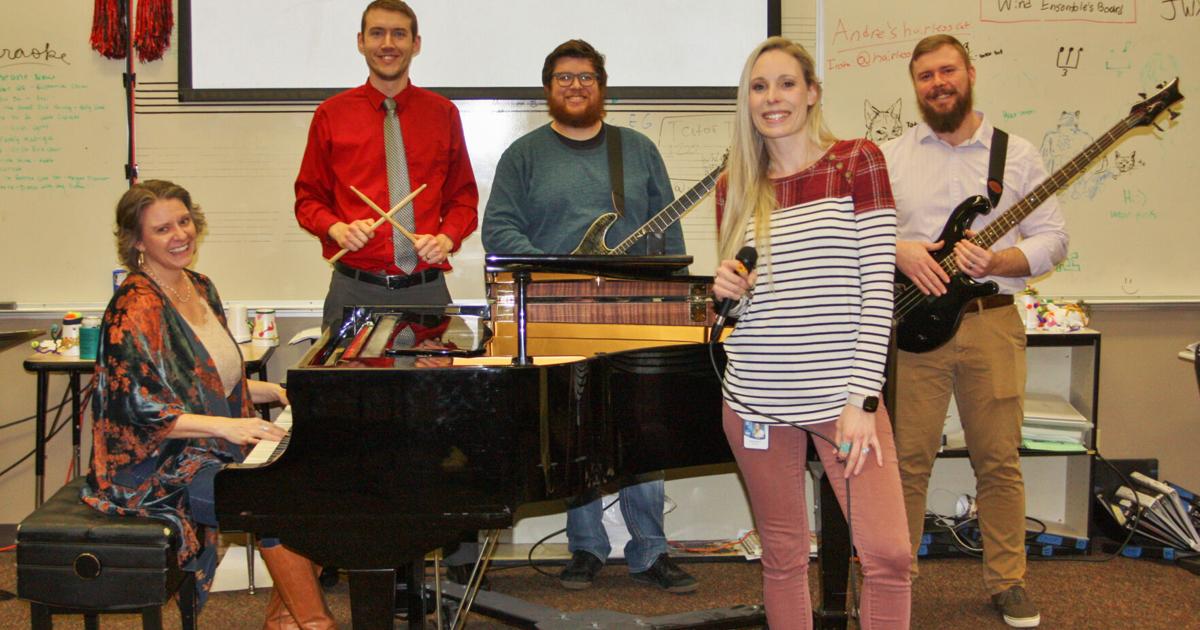 Selah's 'Just OK' Teacher Group Is Actually Pretty Awesome | News
"Bis! Bis!" chanted the crowd of Selah High School students.
Gathered in the stadium for the annual Homecoming meeting last fall, the students had just listened to the interpretation of a group of "Sk8ter Boi" by Avril Lavigne. Then, after a while, at the request of the students, the band started playing Taylor Swift's "Love Story" while the students sang.
Plot: The five band members are all Selah High School teachers – staff members who use their musical abilities to perform at assemblies and other school functions.
It all started at the start of the 2020-21 school year when English teacher Shane Polley, who plays drums, emailed all staff asking if anyone was interested in creating a group. Polley's intention was for the band to serve as a casual social opportunity for him and his co-workers.
Alex Soto, a science teacher, responded to the email and volunteered to play guitar.
"I thought we were just going to hang out and play together once in a while," Soto said. "I didn't think there would be performances."
However, the band didn't fully come to fruition until the spring of 2021, when a group of senior students began begging math teacher Theena Roberts to sing and English teacher Deborah Thompson to play piano during their next senior gala.
At first, the two teachers were reluctant.
"I said, 'Hard pass. Absolutely not. No way am I singing," Roberts said.
The students were undeterred and eventually convinced Roberts and Thompson to join Polley and Soto in forming a band. Hunter Foster, a paraeducator, was also added to the band as a bassist.
Finally, the group that was eventually dubbed "Just OK" was born.
The motto of the group? "We're not good, we're not great. We are just OK.
During the 2020-21 school year, the quintet of teachers known as Just OK performed twice in front of students and were met with an overwhelmingly positive response.
"It's a very entertaining group, and I love that we get that kind of involvement from our favorite teachers within the school," said Selah High School junior Lauren Thomas. "Just OK is awesome and they improve the assemblies and talent shows!"
The band members themselves acknowledged how much the students enjoyed the performances.
"The students loved it," Roberts said. "When the students really got hooked on this and started loving it, I was like, 'OK, we need to bring more joy.' We need to do something that will bring people together at school, and it seems to be something that brings people together.
In this spirit, the teachers have decided to continue their performance this school year. However, after Foster decided to retire from the band, freshman band teacher Kevin Madson became his new bassist.
"It's kind of cool to be a part of the whole school culture," Madson said of his new band membership.
In addition to connecting with students, Just OK members see the value of connecting with each other.
"Even more than the performances, I love the workouts," Thompson said. "It's fun to hang out with a few other people. And we laugh a lot and spoil a lot. It's just fun getting to know other teachers.
Polly agrees.
"It's fun to hang out and play music," he says. "I love playing music and they're all fun people. Everyone loves it, so it's pretty awesome.
Roberts also appreciates the positive experiences she has had with the other band members.
"Even though it takes me a hot minute to even figure out what the melody of the song is when we play it, they are so patient," she said. "The group of people who are part of the group are the most supportive, loving and kind people I could possibly spend time with."
Natalie Keller is a junior at Selah High School.