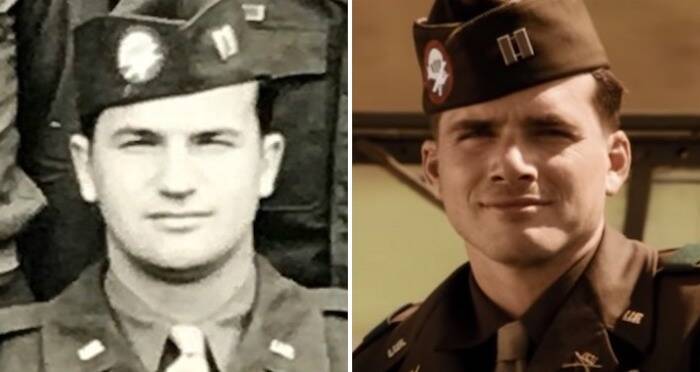 Ronald Speirs, the heroic lieutenant of "Band Of Brothers"
Lieutenant Ronald Speirs earned a reputation for bravery and brutality fighting in Europe with the now legendary Easy Company during World War II.
During a tense battle on Belgian soil, an American company finds itself trapped behind German lines without a radio. A lieutenant named Ronald Speirs, who had parachuted into occupied territory on D-Day, took decisive action. He passed through the center of the village occupied by the Germans.
Speirs put his life on the line for the mission – and it's not the first or last time he's risked it all.
"The Germans were so shocked to see an American soldier crossing their lines – they forgot to shoot!" said another member of Speirs' company.
And after delivering messages to the company, Speirs turned around and crossed the same enemy line.
But who was Ronald Speirs, the lieutenant commemorated in the HBO miniseries Band of brothers? And were the stories of his bravery correct?
Who was Ronald Speirs?
Although he made his name fighting in the United States Army, Ronald Speirs was born in Edinburgh, Scotland on April 20, 1920. The youngest of five children, Speirs had few memories of Scotland. His family moved to Boston in 1924.
Even before World War II, Speirs began training with army officers. Two officers visited his Boston high school to conduct drills.
When war broke out, Ronald Speirs volunteered. He worked as an accountant but put his career aside to head for basic training in Mississippi. During basic training, the Army asked Speirs to join a new unit: the Parachute Infantry.
The move would send Speirs to one of the most dangerous jobs in the military. But it also earned him an extra $100 a month in salary, so Speirs signed up.
The training of paratroopers began with simple tasks. Speirs and his regiment would travel three miles to Mount Currahee in Georgia and then back down. They started jumping fake planes and low towers until the regiment moved to Fort Benning and started jumping C-47 planes. Then they practiced night drops.
In 1943, the regiment was ready for combat. And Speirs held the role of platoon leader in Company E of the 506th Parachute Infantry Regiment.
The legend of Ronald Speirs began on D-Day
Ronald Speirs entered active service in the US Army in June 1944. Two days later, he boarded a C-47 to cross the English Channel and land in Normandy.
The D-Day invasion sent 156,000 Allied troops into Nazi-occupied France. And Speirs was one of them.
As a platoon leader, Speirs found himself in charge of about fifteen paratroopers. And due to low cloud cover, the paratroopers landed about four miles from their target area. Speirs led his men to Brecourt Manor. But before reaching their target, Speirs' company encountered a group of German soldiers.
With orders to take no prisoners, Speirs fired on the men. The controversial action earned Speirs praise from his country's press.
At Brecourt Manor, Speirs led an assault on an artillery battery. German soldiers threw a grenade at the Americans as they fled. Speirs pushed the grenade under the mud, pressing down on it with his boot. The lieutenant's quick thinking saved lives – and Speirs walked away with only minor damage to his boot.
Speirs' famous suicidal run through German lines
On D-Day, Ronald Speirs showed bravery bordering on suicide. And it continued during his stay in Europe.
Speirs and his men traveled through France, Holland and Belgium, reclaiming territory seized by Hitler. And then, in the Belgian village of Foy, Speirs put his life in danger.
American troops flanked the town, held by German soldiers, but the company on the other side of town had no radios. The dangerous situation could have ended in disaster – until Speirs sprints through the center of the village with German soldiers staring at him the whole time.
Speirs miraculously reached the business, where he gave orders before running through the village a second time.
"He just kept running through the German line, came out the other side, talked to the commander of I Company, and ran back," Carwood Lipton said in a 1991 interview." Damn, that was awesome."
The heroic action earned Speirs a promotion. He would be in charge of Company E, later immortalized in historian Stephen Ambrose's book Band of brothers.
The stories of Ronald Speirs
But not all stories about Ronald Speirs were positive. Controversy also followed the officer.
Killing POWs during the D-Day invasion violated the Geneva Convention. Despite this, a boston globe The article praised Speirs and reported that he was awarded the "Bronze Star for single-handedly killing 13 Nazis after parachuting into Normandy on D-Day".
Speirs also allegedly shot a platoon sergeant during the invasion. According to eyewitnesses, a drunk sergeant had been ordered to stand up to make way for an artillery barrage, but insisted on entering the fray. Speirs relieved the sergeant of his duties, but when the man became indignant and aimed his rifle at Speirs, the lieutenant fired.
"The peloton watched this happen without batting an eyelid," Speirs later said in his defense.
"Speirs shot him," Major Dick Winters of Easy Company later wrote. "[And] in doing so, he likely saved the lives of the rest of the team.
Years later, when historian Stephen Ambrose wrote Band of brothers about Company E, fact-checking Speirs' many stories proved nearly impossible. One tale claimed that Speirs distributed cigarettes to German POWs before shooting them. Another said Speirs shot the sergeant just because he was drunk.
Simon and Schuster contacted Speirs, fearing the publication would provoke a lawsuit. Speirs had no problem with the stories, joking, "I'm 81, what can they do to me now?"
At the end of World War II, Speirs and company captured the Eagle's Nest, Hilter's mountaintop hideout. Speirs then served in the Korean War and later served as governor of Spandau Prison in Berlin. Speirs died on April 11, 2007, at the age of 86.
---
Ronald Speirs was one of the most mysterious characters in Band of brothers. Next, read the story of Easy Company leader Richard Winters, then learn about heroic paratrooper Lewis Nixon.