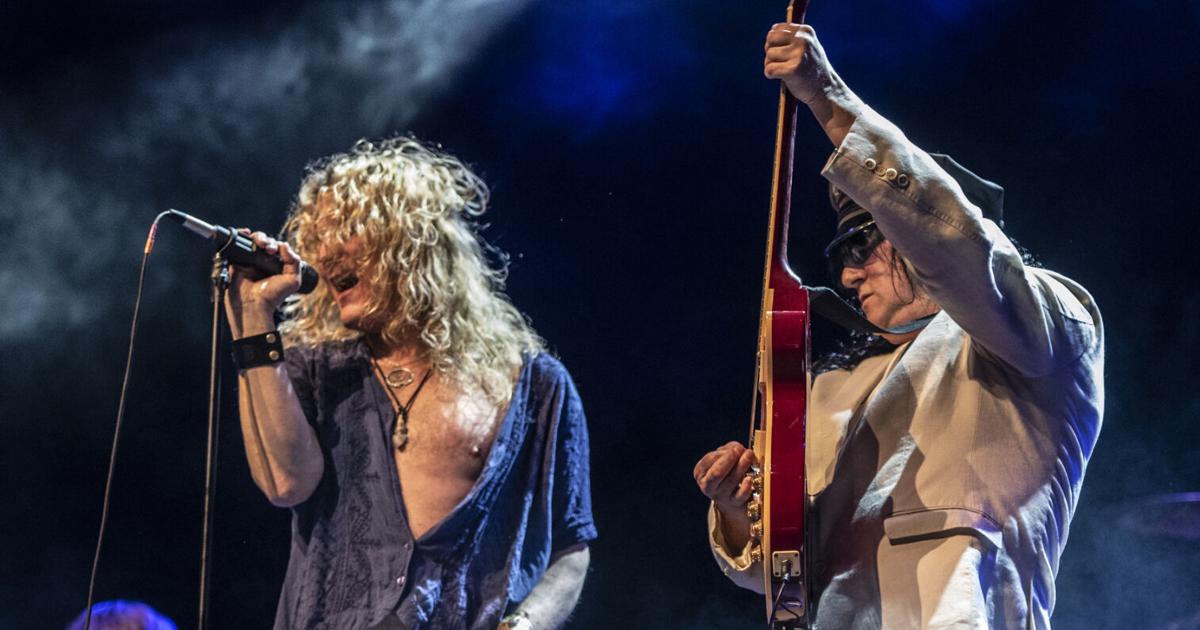 NH gears up for tribute band invasion from Zeppelin tunes to an all-metal version of the Bee Gees | A&E
Like an encore in a sea of ​​lifted lighters, the tribute bands bring a wave of nostalgia to the stages of Granite State in 2022.
Part of the appeal is that the tickets are generally more accessible than their namesake acts, and it's a chance to not only get lost in the music and memories, but also hear tunes from legendary bands that aren't no longer together or artists who are no longer there.
Rochester Opera House's lineup alone includes celebrations of acts ranging from The Carpenters (Top of the World) to Prince (The Purple Xperience), and even an "all-metal tribute to the Bee Gees and beyond" (Tragedy ).
Cashmere
Singer Jean Violet spends the week as a senior graphic designer and his weekends touring with his Led Zeppelin tribute band Kashmir, who play at the Palace Theater in Manchester on March 4.
It's been quite a journey since Violet — his off-stage name is Naumann — got his first gig at age 13 in Rochester, NY, where he sang Beatles tunes on a local radio station.
By age 18, he was playing with the rock band Avante Garde at clubs in Pittsburgh. Next came New York and the hard-rock band Naked City, a hit on the 1990s circuit there. "We were a pretty popular rock band back in the Guns N' Roses days," he says.
But Kashmir was a welcome change.
"It took about 10 years to get out of the club scene and into festivals and theaters. Last year in March we were invited by Chris Martin from Coldplay to play at a birthday party for his girlfriend, Dakota Johnson, whose favorite band is Led Zeppelin. He took us to Malibu for a private party," said Violet, who lives in Prince Frederick, Maryland.
Kashmir aims for the feel of a live Zeppelin concert, with the psychedelic vibe of the 1970s.
"All this crazy stuff was happening back then and people thought it was the end of days. It's the same today with talk of war, politics…and now the pandemic. People wanted to get lost in the mystical rock 'n' roll experience of Led Zeppelin.
"I'll ask the audience, 'How many people have thought about life outside (the venue) in the last two hours?' And no hands go up. It's another area.
Yet some take it a little too seriously. An audience member complained that he was holding the microphone with "the wrong hand". Another punched on stage because Kashmir didn't perform "All My Love."
But above all, the public sings, swings and smiles.
Although her colleagues on weekday Zoom calls have become accustomed to Violet's long, curly, Robert Plant-style blonde locks, viewers of her nightly gig sometimes make stereotypical assumptions.
"They instantly think you're carrying a bag of weed on you, your breath smells of alcohol and you don't have a job," he laughs. "When I used to do nightclubs, I had people coming, 'Hey, where can I score something?'
almost queen
Almost Queen will perform at the Flying Monkey Movie House and Performance Center in Plymouth on February 26.
Randy Gregg, who grew up in Queens, NY, and portrayed bassist John Deacon (who wrote classic tunes "You're My Best Friend" and "Another One Bites the Dust" for Queen) in the look and feel. her for 18 years.
Gregg has been a fan of the seminal band since he was 5 years old and a neighbor played him one of Queen's albums.
"My face fell. I was there watching. I said, I want to do this," says Gregg, who now lives in Valley Stream, NY. "Be careful what you wish for. Queen has always been the one of my favorite bands growing up, and still is.
Queen's diverse repertoire, from the opera "Bohemian Rhapsody" to the arena anthem "We Will Rock You", represented an interesting dynamic – four songwriters with varying interests. So almost Queen likes to mirror that, throwing in a B-side melody or deep selection instead of just doing classic hits.
However, "Under Pressure" and "Radio Gaga" are the ones that still give him chills on stage.
"If we can get someone to listen to a song they don't know, that's our job," says Gregg, whose music career also includes gigs with Twisted Sister's Dee Snider and Thin Lizzy.
Eaglemania
Ten years ago, keyboardist and vocalist Frank Marino was exhausted, tired of the club circuit and the bar scene – and of returning home from gigs at 3 a.m.
"Tributes (acts) were just starting to become a viable commodity in theaters, so I thought, 'What would appeal to most people and what would we like to play night after night? ?'"
The answer was hidden in childhood memories, when his musician father practiced drums in their New Jersey home and kept the Eagles spinning steadily on the stereo.
These days, in addition to producing music for Disney and ABC Television Networks, Marino is a member of Eaglemania, an Eagles tribute band whose next Granite State show is this Friday at Derry's Tupelo Music Hall.
"The fact that we can go all over the country, play music that we love…it's such a treat. We meet (other) Eagles fans. People come to tell us about their own experiences, how certain songs relate to an event or a memory… that first date or that first kiss," he says. "We love these stories. We are kind of on a journey with them.
Marino (who goes by Frank Reno on stage) manages Joe Walsh's material.
"The Eagles catalog of music is second to none as far as I'm concerned. I do not get enough. You'd think we would – that's about 100 shows a year.
Most people who come to an Eaglemania concert want to hear the greatest hits. "Like 'Hotel California' – you couldn't leave it out or you'd get shot," Marino laughs.
The best part is hearing a swell of lyrics sung from the theater seats, especially during the encores – "Desperado" and "Take It Easy."
"Sometimes they sing louder than the band," he said. "It's quite an experience."
To hell with the torpedoes
Richard Kubicz likes to tell a story of how his mother forced him to take piano lessons as a child: "If you don't learn to play an instrument now at age 8, you'll regret it when you will be taller.
He took lessons reluctantly, but it was rock guitar he wanted to play – the kind of music Tom Petty and the Heartbreakers made on 1979's "Damn the Torpedoes" album.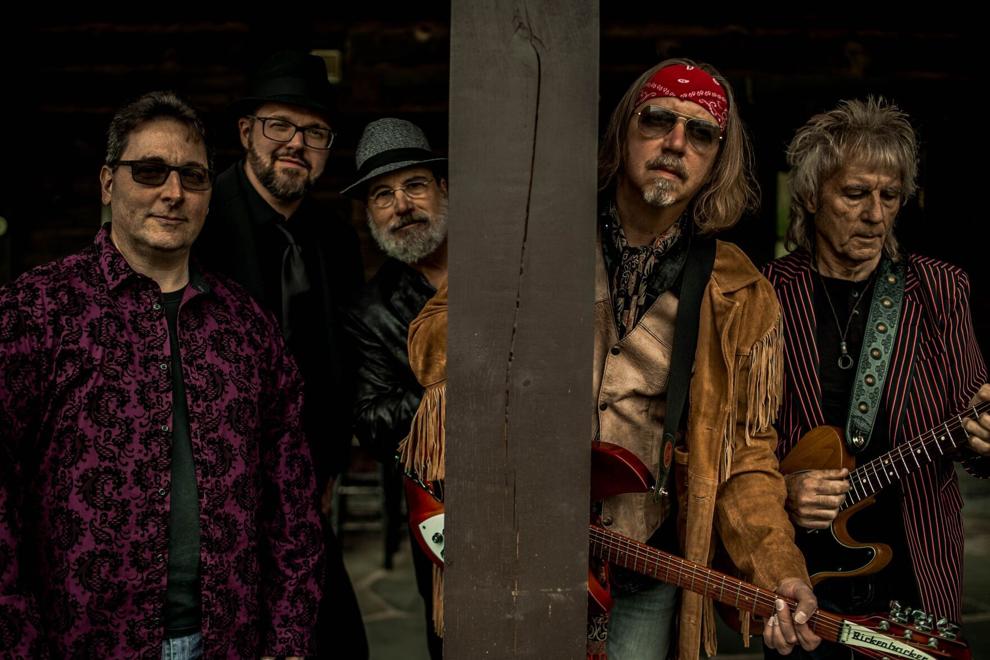 A few decades later, and Kubicz is doing just that, playing Petty in a touring tribute band that plays regularly at Daryl's House Club in upstate New York — a venue that grew out of house gigs. Daryl Hall, of Hall & Oates fame, started in the area.
"We're already booked for shows there next year," says Kubicz, amid a move to upstate New York.
But first, Damn the Torpedoes will play at the Rex Theater in Manchester on February 26.
Kubicz first performed original music. He released a 10-track self-produced album, "Echo Lakes," in 2005 and was doing acoustic shows in cafes. But a comment from his wife and being told by his friends that he looked a bit like Tom Petty got him thinking about a new direction.
"2007 was our first gig, and I've never looked back," he says, admitting he once shunned the idea of ​​tribute bands.
"The tribute bands after Petty's passing went far beyond his songs. There's a way… to do it that almost makes it a joke. It's embarrassing for me. It's not respectful of the music. I'm not trying to be an imitator.
Although Petty's voice was "thin and a bit nasal," it was precise, he says. "At first it was a bit difficult for me to hit the notes. I didn't want to tune the guitars and change the key, so I studied with an opera teacher for two and a half years to help me hit those notes and hold them longer.
superunknown
Philadelphia-based Jason Reed, who works in real estate, never expected to create a long-term side gig as a grunge rocker. He thought his solo show as an acoustic tribute to the late Chris Cornell (Soundgarden, Audioslave, Temple of the Dog) would be a "one-off". But the response led him to assemble a full band and start touring.
The band, Superunknown, perform their first Granite State show at Tupelo Music Hall on May 21.
As a child, he listened to rock led by singers who could howl in higher registers, like Steven Tyler of Aerosmith and Robert Plant of Zeppelin. It was after high school, when he did a four-year stint in the US Marine Corps as a radio operator for an infantry unit, that a friend started teaching him the guitar.
Later, he set his sights on working in the fitness industry and then came marriage and children. But his eldest is a sailor in Japan, his second child is a student in Palm Beach, Florida, and his youngest is in high school, so he's happy at 49 to have time to explore the limelight.
"There's something about this music from the youth, teens and early twenties that enters your soul and holds a special place," he says. "I'm honored to play there and I love playing there."