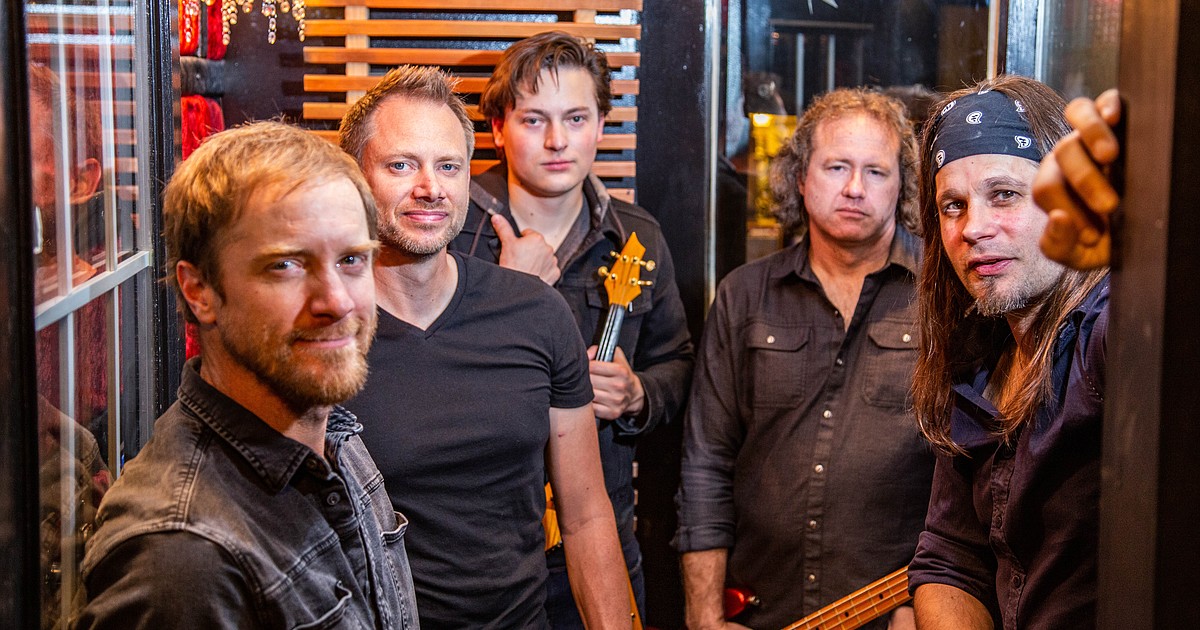 Marshall Catch kicks off next decade with new album
Prior to the release of their third album, band Marshall Catch hauled a grand piano to the top of Crane Mountain in Bigfork overlooking Flathead Lake to shoot a music video for their title track.
The Flathead Valley-based band have been voted Best of Flathead four years in a row in the annual Daily Inter Lake competition and have garnered national attention over the past decade of their career.
Since its founding in 2010 by songwriter, singer and guitarist Luke Lautaret, Marshall Catch has been a local favorite while building a reputation in the Pacific Northwest marked by its signature sound.
The band celebrate the release of their latest album 'Chasing Ghosts and Dreams' at a CD release party February 5 at the O'Shaughnessy Center in Whitefish.
It took five days to prepare and the weather was uncertain on October 21 last year, the day the band planned to transport the piano to Crane Mountain – a perfect metaphor for how Marshall Catch went from being a popular group to a regional success.
"This piano is over 100 years old and has been in my studio for a long time," Lautaret said. With the help of two homemade carts, road and film crews, and drummer Jared Denney's ATV, the team made it to the top, complete with all their instruments and audio and video equipment.
"It was madness, but it was worth it," he said.
A Flathead Valley native, Lautaret graduated from Whitefish High School in 2000. In fact, all members of Marshall Catch have deep Flathead ties, and most have been with the group in one form or another for years.
Known for his unique blend of soulful, gritty Americana sounds peppered with hard rock inflections and infused with Lautaret's poignant lyrics, Marshall Catch has been widely acclaimed.
Marshall Catch's 2010 debut album, "ad meliora", included the song "The Ballad of the USS Arizona" – a touching tribute to the largest battleship sunk in the December 7, 1941 Japanese attack on Pearl Harbor that cost life to more than 1,170 people. crew members – brought them to the national stage when they were invited to play it at the Pearl Harbor Memorial in 2011 during the 70th anniversary commemoration of the attack.
A decade later, Lautaret's impressions of that experience are still powerful.
"It was a once-in-a-lifetime opportunity," he said. "We're the only band, other than military brass, that's been invited to play there."
The day before the anniversary, the band were invited to a private event at a nearby military museum where the owner had opened all the displays of World War II memorabilia and they had the chance to play their song and talk to an intimate group of Pearl Harbor Survivors.
"For me, it was so poignant," Lautaret said. It was humiliating.
Although he writes the lyrics and melodies for the band's songs, back when he started the band, Lautaret wanted a band name that reflected all of the musical textures the band members brought to the table.
"What they all bring is invaluable," he said, adding that they started composing as a group.
Lautaret describes himself as a lanky, non-athletic teenager who was diagnosed with Tourette syndrome as a child. In fact, it was his clumsiness on the pitch that gave the group its name.
"I used to play baseball and we would warm up in two-teams, but nobody wanted to get stuck playing with me because I was so bad," he said. "There was a kid named Marshall who was too nice to say no, so I always threw the ball at him to have someone to play with and yell, 'Marshall, catch it!'
Lautaret says it was the muscle twitches, facial makeup and throat clearing that hampered his ability to socialize and led him to music and songwriting.
"I always seemed to have a knack for writing and got a guitar for a high school graduation present," he said. "I could process my emotions through my music. Music has helped me grow. »
Along with Lautaret and his longtime drummer/keyboardist Denney, core player Matt Haun, fiddle and mandolin player Max Armstrong, and lead guitarists Chauncey Wilde and Tyler Rounds include Marshall Catch.
Wilde will make his official debut with the band at the album release party on Saturday, while Rounds, who recently completed his master's degree in archaeology, will make his final official appearance with the band that night.
The band describes the songs of "Chasing Ghosts and Dreams" as crafted and perfected over years of life on the road, cultivated during a season of immense changes in the personal lives of several band members, exploring life, loss, new experiences and rolling with the changes. Fans will recognize many of them since the band has been touring with them for quite a while.
Now that Marshall Catch has released their new album, the band are once again focusing on live music for 2022, with plans for local and regional shows and festivals. Check the group's Facebook page for schedule updates.
LEARN MORE
The release party for the band Marshall Catch's new CD "Chasing Ghosts and Dreams" will take place on Saturday February 5th at the O'Shaughnessy Center in Whitefish. Doors open at 6:30 p.m. Concert is from 7 p.m. to 9 p.m.
Tickets are $5 through online ticket retailer EventBrite, with remaining seats available at the door on a first-come, first-served basis. All ages are welcome.
SunRift Beer Company will provide locally brewed beers and a selection of wines for purchase.
The album will be available for digital download and streaming on all major services from February 5 and hard copies will be available during the album release party.
A video for the single recorded on Crane Mountain overlooking Flathead Lake is available online.
Community Editor Carol Marino can be reached at 406-758-4440 or [email protected]